Zurich, Switzerland, July 06, 2022 – greenteg (Zurich, Switzerland) today announced its partnership with Dekonta CBRN Ltd (Prague, Czech Republic) to provide greenteg's core body temperature sensor solution for continuous and non-invasive core body temperature measurement for workplace health and safety, military, and firefighting applications.

Dekonta CBRN Ltd is a company specializing in the R&D of personal protective equipment (PPE), decontamination technologies, and response operation procedures associated with HazMat and CBRN events (Chemical, Biological, Radiological and Nuclear). Working in the PPE in contaminated environment brings an extra thermo-physiological strain on the personnel. An example of the R&D experimental conditions employed by Dekonta CBRN to study different PPE properties and performances is given below: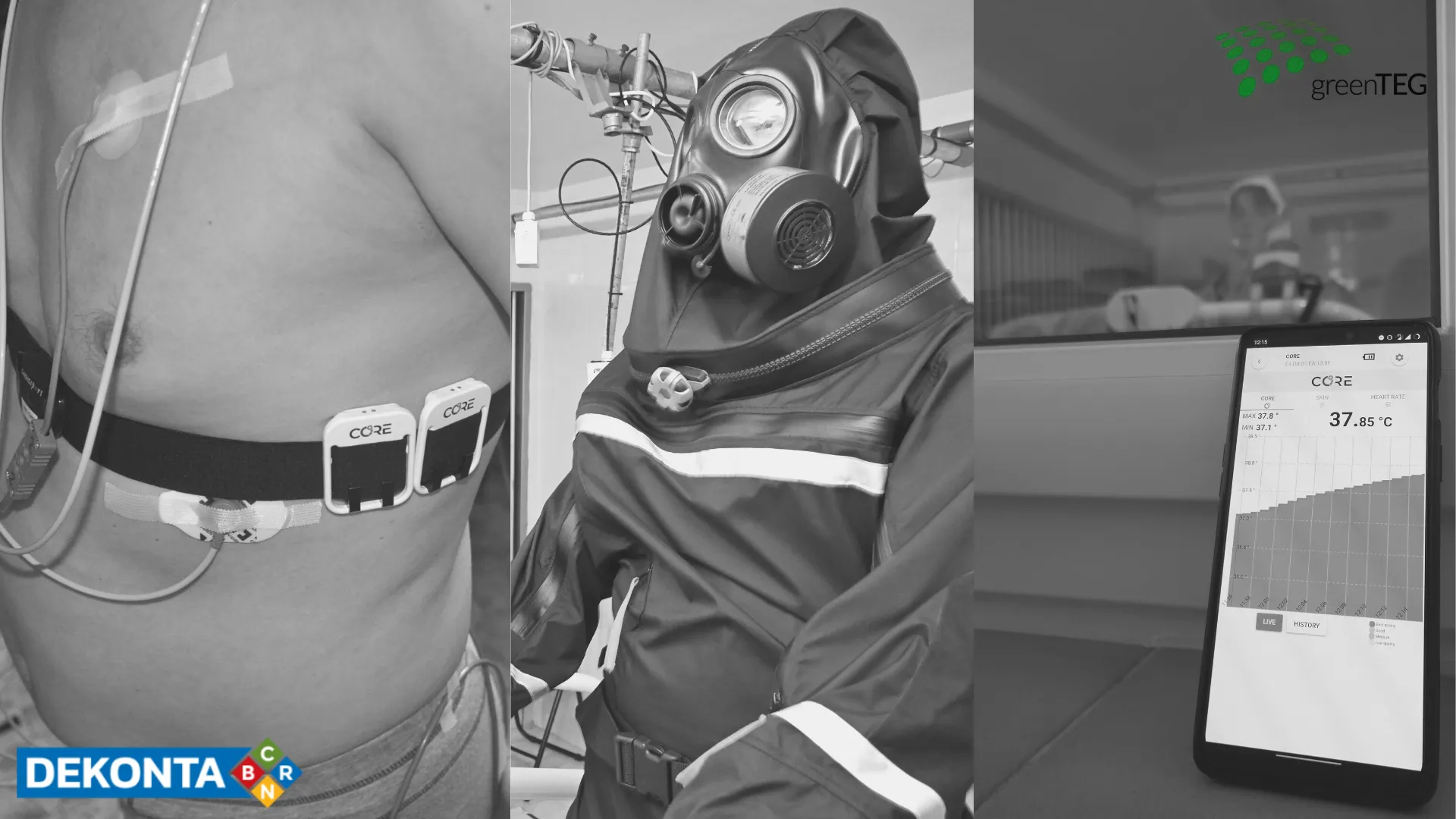 The individual core body temperature is continuously, remotely and accurately monitored on the CORE app via Bluetooth, from the sensor placed on the chest via a body strap.
"We figured out that real-time measurement of core body temperature is one of the most critical parameters for workers. Surprisingly, the CORE sensor proved to be a reliable choice and user-friendly approach compared to traditional methods, like rectum temperature probes. After a several trials comparing the CORE with the traditional methods, we saw the CORE potential, and we are happy to cooperate with greenteg to help them make the CORE as a valuable safety tool for monitoring health status of workers in protective equipment."
Mgr. Jaromír Sobotka, Ph.D – R&D Project Manager at Dekonta CRBN
Through this partnership, the core body temperature monitor will be available and in direct access in the Czech Republic. Dr. Holger Hendrichs, VP Sales & Marketing at greenteg, added:
"We are very happy to have such an educated and reputable partner representing our technology in the Czech Republic."
_Dr. Holger Hendrichs – VP Sales & Marketing at greenteg
For more information about Dekonta CRBN Ltd, please visit: www.dekontacbrn.cz